News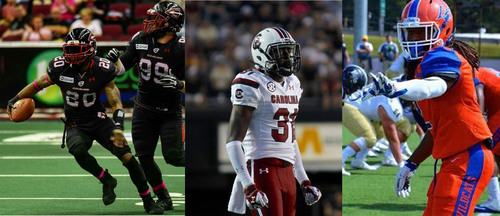 11/01/2018 4:02 PM
-
GREENSBORO - The Cobras continue to increase their depth at defensive back, signing Kenny Veal (6'0", 195), Lecorey Demease (6'0", 180), and Al Harris (5'11", 180). The three join already re-signed defensive backs Mike Green, Cedric Poole, and Darius Thomas.
From Hamilton, Ohio, Veal played college football at Toledo. During his college career, Veal tallied 119 total tackles, while also forcing two fumbles and six interceptions.
Following his time in college, Veal has played for many different indoor and arena football teams, including the Nashville Venom and Wichita Falls Nighthawks from 2014-2016 with Cobras head coach Billy Back, quarterback Charles McCullum, and wide receiver Jordan Jolly. Veal has also played for the Green Bay Blizzard.
"It will be like a summer time family reunion when you get to see your favorite cousins or relatives you haven't seen in years," Veal says on reuniting with some of his old teammates.
Demease and Harris, however, are rookies.
"It feels great to be a pro, been dreaming of this day since I was a little kid," Demease says on his signing.
Demease is a Coushatta, Louisiana, native, and played college football at Louisiana State University.
Harris is from Fort Lauderdale, Florida, and played two years at both the University of South Carolina and Jacksonville State University.
ABOUT THE CAROLINA COBRAS
The Carolina Cobras are members of the National Arena League (NAL). Founded in 2017, the Carolina Cobras are starting their second season in 2019 and were the 2018 National Arena League Champions. The Cobras play their home games at the Greensboro Coliseum. Cobra Season Ticket Memberships are on sale now call (336) 445-7232 or visit carcobras.com. Follow the Cobras on Facebook at facebook.com/carcobras, twitter.com/carcobras and instagram.com/carcobras.
ABOUT NATIONAL ARENA LEAGUE
The National Arena League was founded in 2016 and hosted its inaugural season in 2017 as the premier league in arena football. The National Arena League will kick off its third season in 2019. For more information regarding expansion opportunities or partnerships, contact Commissioner Chris Siegfried at chris@nationalarenaleague.com or Expansion Chairman Jeff Bouchy at jeff@nationalarenaleague.com. For more information about the NAL visit www.nationalarenaleague.com, facebook.com/nationalarenaleauge, twitter.com/NALfootball, Instagram.com/natiionalarenaleague.