News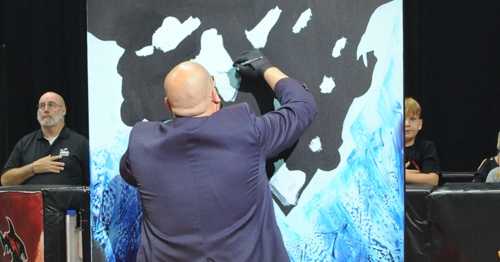 06/22/2018 6:53 PM
-
GREENSBORO – The Carolina Cobras return to the Snake Pit for Military Appreciation Night, Saturday, June 23, 1700 hours. This will be the Cobras sixth home game of the season. The Cobrass currently sit at 7-2 as the 5-3 Columbus Lions come to town for a heated match-up. The Cobras had a heartbreaking loss against the Lions earlier in the season 55-54 on the road in Columbus, GA.


Whether you are a longtime Season Ticket Holder or about to head to your first Cobras game, help us salute our Military this Saturday night in the Snake Pit. Below is everything you need to know for tomorrow's game.


Military Appreciation Night

The Carolina Cobras reserve this night to honor of our active military and retired veterans that have and are serving our country. During the game the Cobras will honor multiple home town heros that have served in our armed forces.


Military Buy One Get One Free Tickets

All Military (active, retired, and families) can receive a special Buy One Get One Free ticket offer for Military Night. To get your tickets go to www.naltickets.com/cobrassinglegame or call 336-455-7232. You may also purchase your buy one get one free tickets at the arena box office.


Doors Open

On Saturday, the doors open at 1730 hours for season ticket holders and 1800 hours for the general public. The game kicks off at 1900 hours.


Artist Joe Everson

The Cobras are pleased to announced renowned artist Joe Everson will attend tomorrow's game to perform the national anthem while producing a special patriotic painting titled "Iwo Jima." Everson is also painting a second painting of Cobras WR Tyron Laughinghouse. Both of Joe Everson's paintings will be auctioned off after the game and all proceeds will go to the Veteran Tickets Foundation.


Military Tees

The Cobras will be selling their "Iwo Jima", military themed tees for a minimum donation of $5, the tees will be in sizes S, M, L, XL, 2X and 3X. We have a limited supply on the tees, so get there early to ensure you get this great shirt. All proceeds will also benefit the Veteran Ticket Foundation.


Family Four Packs ARE BACK!
The Cobras will have Family Four Packs available to purchase on Saturday, the family four packs include four tickets, four hotdogs, four cokes and four bags of chips. If your interested go to www.naltickets.com/cobrassinglegame or call 336-455-7232. You may also purchase your family four packs by visiting the arena box office.


Cobra Nation Membership Experiences

For those members who qualify, be on the lookout next week for an email asking for your preferred game(s) and experience choice(s). Don't miss out on some great behind the scenes action. Choices include a game day Chalk Talk with Coach Back, the Player Intro Experience, the On-Field Experience or the Cobras Locker Room Tour. After game and experiences are confirmed you will be sent and email with instructions on where to go.


Single Game Tickets Available

Get single game tickets for Military Appreciation Night for only $13.50 call 336-455-7232, or visit ticketmaster.com. Additionally, ticket sales will be available at the arena box office on game day.


Halftime

The Cobras will honor military personnel throughout halftime that will take place on the field. There will be a special military themed Venom Dance Team performance.


Post Game Autograph Session
Meet the players and dancers after the game for our post game autograph session on the field after the game.



ABOUT THE CAROLINA COBRAS

The Carolina Cobras are members of the National Arena League (NAL). Founded in 2017, the Carolina Cobras will play their inaugural season in 2018 at the Greensboro Coliseum. Cobra Season Ticket Memberships are on sale now call (336) 445-7232 or visit carcobras.com. Follow the Cobras on Facebook at facebook.com/carcobras, twitter.com/carcobras and instagram.com/carcobras.


ABOUT NATIONAL ARENA LEAGUE
The National Arena League was founded in 2016 and hosted its inaugural season in 2017 as the premier league in arena football. The National Arena League will kick off its second season in April of 2018. For more information regarding expansion opportunities or partnerships, contact Commissioner Chris Siegfried at chris@nationalarenaleague.com or Expansion Chairman Jeff Bouchy at jeff@nationalarenaleague.com. For more information about the NAL visit www.nationalarenaleague.com, facebook.com/nationalarenaleauge, twitter.com/NALfootball, Instagram.com/natiionalarenaleague.