News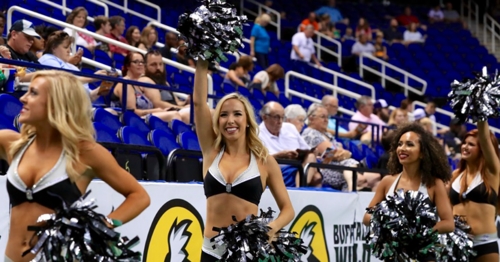 09/24/2018 10:55 AM
-
GREENSBORO – The Carolina Cobras' Venom Dance Team begins preparation for their second season in November 2018. The team will host open auditions beginning Friday, November 16th at Greensboro Coliseum Special Events Center, Mtg. Rm. 4. Registration for preliminary auditions begins at 6:00 PM. Semi-finals will be held Saturday, November 17th and the final round of auditions will take place on Sunday, November 18th. Email venom@carcobras.com for more information or register online at http://carcobras.com/venom-dancers/.


Leading up to auditions, Venom Dance Team Director, Miranda Lobs will be hosting a Prep Class for all audition hopefuls, on Saturday November 10th. This class is for anyone 16 years or older who wants to see if they have what it takes and learn Venom Style choreography! Don't miss this chance to get noticed and get prepared! The class will take place at Pro Dance Academy in Clemmons, NC. Space is LIMITED for this class, so make sure to reserve your spot at venom@carcobras.com or online -- CLICK HERE https://goo.gl/forms/70atkjWdkVLaTA0j2


"Having just finished our inaugural season with the Cobras and finishing as National Champions, we are excited for what's in store this year. We will be growing our squad to 16 dancers, as well as adding a Venom Calendar! If you have a desire to be part of this talented group and dance professionally, now is your time to come out and audition! Don't let the opportunity to be part of something great pass you by!", states Miranda.


For a more detailed description of the audition period please visit http://carcobras.com/venom-dancers/ Participants must be 18 years of age by November 16, 2018 and have obtained a high school diploma or GED by May 31, 2018 to AUDITION. To register for 2019 Venom Auditions please CLICK HERE -- https://goo.gl/forms/jDeVKDYseOzZarC63


ABOUT THE CAROLINA COBRAS
The Carolina Cobras are members of the National Arena League (NAL). Founded in 2017, the Carolina Cobras are in their inaugural season in 2018 at the Greensboro Coliseum. Cobra Season Ticket Memberships are on sale now call (336) 445-7232 or visit carcobras.com. Follow the Cobras on Facebook at facebook.com/carcobras, twitter.com/carcobras and instagram.com/carcobras.


ABOUT NATIONAL ARENA LEAGUE
The National Arena League was founded in 2016 and hosted its inaugural season in 2017 as the premier league in arena football. The National Arena League will kick off its second season in April of 2018. For more information regarding expansion opportunities or partnerships, contact Commissioner Chris Siegfried at chris@nationalarenaleague.com or Expansion Chairman Jeff Bouchy at jeff@nationalarenaleague.com. For more information about the NAL visit www.nationalarenaleague.com, facebook.com/nationalarenaleauge, twitter.com/NALfootball, Instagram.com/natiionalarenaleague.