News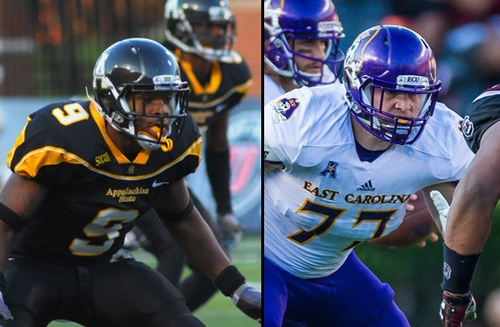 12/21/2018 5:42 PM
-
GREENSBORO - Carolina continues to add competition to their locker room, adding defensive back Troy Sanders (6'1", 207) and offensive lineman Will Dancy (6'4", 310).
Sanders, a native of Chester, South Carolina, attended and played football for Appalachian State University. Since graduating in 2013, Sanders was signed as a free agent to the Atlanta Falcons and has played for multiple arena and indoor football teams, including the Tri-Cities Fever of the IFL, and the Massachusetts Pirates if the NAL. Sanders played in seven games for the Pirates during the 2018 season.
Coach Back mentioned that "Troy is a smart physical defensive back and that's exactly what we are looking for this season. He fits right in by being a multi-purpose player on the defensive side of the ball."
"I'm grateful for the opportunity to play with the Cobras!" Sanders exclaims. "Coach Back and I have been trying to team up since 2016 and I think this year things really fell in place."
Until the season starts, Sanders is preparing to earn a spot on the final roster. "We have a loaded roster and I love competition. Looking forward to it!"
Dancy, a Graham, North Carolina, native, played college football for the University of North Carolina Chapel Hill and East Carolina University, finishing his collegiate career in 2016.
Following his time in college, Dancy went on to play indoor and arena football for the Green Bay Blizzard of the IFL, and then the High Country Grizzlies of the AAL.