News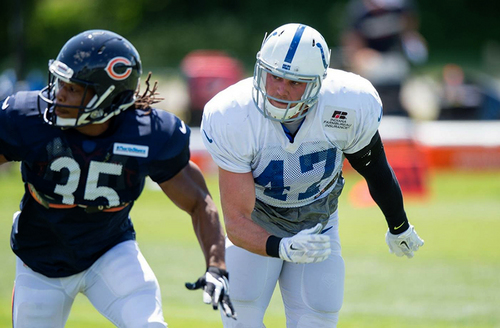 01/05/2019 1:30 PM
-
Second Team All-NAL LB Inks with Cobras
GREENSBORO - Former Massachusetts Pirate Nick Haag (6'3", 240) will be joining the Cobras for the 2019 season.
Haag, a native to Worcester, Massachusetts, fit right in with the Pirates, playing in his hometown and helping lead the Pirates to the best regular season record in the NAL in 2018 (11-5), playing in 16 of their 17 games.
"I'm truly blessed and excited to become a part of the Cobra family," Haag said on signing. "I felt it was the best fit for me as a player and somewhere I knew I'd fit in!"
Coach Back said "Nick has been an asset every season we have competed against him. last season at the Mac he was basically unblockable, recording 12 sacks and making big plays in the run game. He's a true leader and a guy we know will Come day in and day out and bring it! We are excited to say the least."
A seasoned football player, Haag has spent time with multiple indoor football teams, including the Cedar Rapids Titans, and the Spokane Empire of the IFL. Haag has also played in pre-season games for the Indianapolis Colts of the NFL, and has participated in the New York Giants mini-camp.
Prior to his professional career, Haag played football for his high school, Holy Name Prep School - Bridgton Academy. He then went on to play college ball for the University of Massachusetts and Assumption College.

ABOUT THE CAROLINA COBRAS
The Carolina Cobras are members of the National Arena League (NAL). Founded in 2017, the Carolina Cobras are starting their second season in 2019 and were the 2018 National Arena League Champions. The Cobras play their home games at the Greensboro Coliseum. Cobra Season Ticket Memberships are on sale now call (336) 445-7232 or visit carcobras.com. Follow the Cobras on Facebook at facebook.com/carcobras, twitter.com/carcobras and instagram.com/carcobras.
ABOUT NATIONAL ARENA LEAGUE