News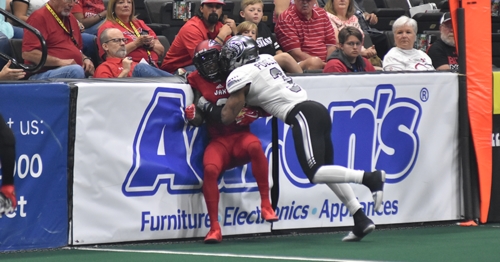 05/02/2018 3:02 PM
-
GREENSBORO- The Carolina Cobras (3-1) are hosting the Lehigh Valley Steelhawks (0-3), who recently lost to the Maine Mammoths 24-45 and fell to 0-3. This is the first time the Steelhawks have been 0-3 in franchise history.


Last week in Jacksonville, Florida, the Cobras were slow to get started, but eventually found points in the second quarter. The game was tight until the fourth quarter when the Cobras forced a fumble and a pick six to get the momentum on their side and head back to Greensboro with a victory. Quarterback Charles McCullum threw for 265 yards, four touchdowns, and two interceptions. Wide Receiver Tyron Laughinghouse caught all four touchdowns for the Cobras last week. Defensively, Defensive Lineman Toni Pulu came in the clutch again, forcing the quarterback to throw a pick six to him, which helped the Cobras come up with the victory in a close game entering the fourth quarter. Keith Lewis had one interception last week.


This week, the Cobras face a struggling Lehigh Valley Steelhawks offense who struggle getting things going, only averaging 22 points this season, which is the worst among all NAL teams. The Steelhawks defense also struggles, as they give up an average of 55 points per game. The Cobras offense and defense should both have record-setting games.


The player to look for offensively is Wide Receiver Tyron Laughinghouse. He is McCullum's favorite target this season and impacts the Cobras as a team. The player to look for on the defense is Toni Pulu, as he looks to have three consecutive games where he has a turnover, and possibly a third in a row in the clutch.


This Saturday's game will be streamed live on YouTube. For more information on how to watch, posts will be made on game day, showing how fans can watch the game online.



ABOUT THE CAROLINA COBRAS
The Carolina Cobras are members of the National Arena League (NAL). Founded in 2017, the Carolina Cobras will play their inaugural season in 2018 at the Greensboro Coliseum. Cobra Season Ticket Memberships are on sale now call (336) 445-7232 or visit carcobras.com. Follow the Cobras on Facebook at facebook.com/carcobras, twitter.com/carcobras and instagram.com/carcobras.


ABOUT NATIONAL ARENA LEAGUE
The National Arena League was founded in 2016 and hosted its inaugural season in 2017 as the premier league in arena football. The National Arena League will kick off its second season in April of 2018. For more information regarding expansion opportunities or partnerships, contact Commissioner Chris Siegfried at chris@nationalarenaleague.com or Expansion Chairman Jeff Bouchy at jeff@nationalarenaleague.com. For more information about the NAL visit www.nationalarenaleague.com, facebook.com/nationalarenaleauge, twitter.com/NALfootball, Instagram.com/natiionalarenaleague.